Nabru Sofas are Very Strong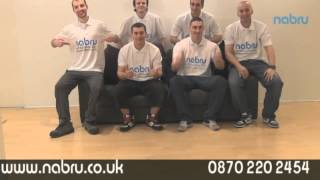 Many people are worried that self assembly sofas are not strong. Don't be concerned! If anything our sofas are stronger than traditionally built sofas
Materials we use to construct our sofas
Our sofa backs comprise a large fibre filled cushion and a small foam cushion
The fibre filled back cushion is 6 inches thick
The foam back cushion is 3 inches thick and made of highly resilient foam, it is designed to provide support for the fibre filled cushion
The seat cushions are 8 inches thick and comprise of highly resilient foam topped in soft polyester wrap, this gives our cushions a nice rounded appearance and a "soft to the touch" feel
Our sofa beds all incorporate a metal action sprung base mechanism available in both 100cm (3'3") and 145cm (4'6") width
Product testing
You might not have seen products like those offered by Nabru before. But you shouldn't be concerned by that, if anything you should be reassured because we've thoroughly tested our products for you to ensure that you get great value for money plus all the benefits that Nabru furniture has to offer.
Software Simulation - Finite Element Analysis
We've employed finite element analysis software (this is the same stuff that bridge builders and the military use to test their products) to simulate and predict the real world behaviour of our products. We've then taken the results of this analysis and applied a margin of safety over and above the results of the analysis of 200% because we know the real world doesn't always work like a software programme...
Real World Tests
We acknowledge that the real world doesn't always behave like a software programme, that's why we've done the following real world tests...
Comfort!...
Of course, this is a subjective one, but what we can say is that we've lent our sofas to some of our more relaxed friends - those that the term couch potato suits rather well! Suffice it to say they've all been rather satisfied – in the unlikely event that you're not there's always our comfort guarantee to fall back on
Strength!...
We loaded up one of our sofas with 20 bags of sand each weighing 20Kg, that's a combined weight of 400kg - not quite the weight of an elephant but you get the point. There was no discernible effect on the frame. We also did a "teenager test" with a 22 stone man jumping up and down on the sofa – again it stood the test.
Durability!...
We've carefully chosen the fabric and foam fillings that we use in our products to ensure that they are highly durable.